Satisfied stakeholders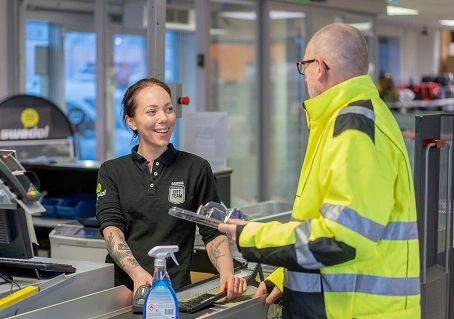 Alligo's sustainability work is based on a continual dialogue with the group's principal stakeholders.
We make it easy for companies to meet their needs in a way that is as sustainable as possible. If we do our job right, we create value responsibly for all our stakeholders.
Satisfied customers
Alligo works in the best interests of new and existing customers by continuously developing and offering products that meet their expectations in terms of function, quality, safety, environmental impact and supply reliability. Services within servicing and maintenance extend the useful lives of the products and thereby reduce the customers' total costs.
The work to create satisfied customers is followed up through regular customer surveys at the group's companies and the outcome form the basis for the businesses' work related to:
Service level and availability
Product range and service development
Skills development
Satisfied employees
Alligo works in the best interests of new and existing employees by offering a healthy physical and psychosocial work environment and opportunities for skills and performance development. The companies in the group conduct regular employee surveys and the results form the basis for new efforts and initiatives designed to increase employee satisfaction.
Satisfied business partners
Based on the strong market position of the respective business areas, Alligo works to achieve competitive purchasing terms and efficient processes and to create close and long-term partnerships with suppliers. Alligo must act professionally, honestly and ethically, based on the group's Code of Conduct and internationally recognised standards and expects its suppliers to do the same.
Through close relationships and cooperation, Alligo can work to reduce risks relating to working conditions, work environment and environmental impact in the supply chain and so have a positive impact on suppliers' development.
Satisfied owners
Alligo works to create shareholder value by focusing on sustainable operations and long-term profitable growth, to minimise major business risks through active and effective corporate governance and to provide accurate and relevant information to the stock market.
How Alligo creates financial value
With our business, Alligo creates financial value that is distributed out to our stakeholders:
Suppliers get value in the form of payment of goods and services that we purchase
Our employees get back value in the form of wages, pensions and other benefits
The Board has the aim that the equivalent of at least 30-50 per cent of Alligo's profit after tax be distributed to the shareholders in the form of a dividend.
Our lenders get financial value in the form of revenue from interest.
We generate value to society by paying taxes and social security contributions.